http://www.tvrabbi.com
There have been

visitors to this page.




Just click on these below, to access some of
Rabbi Doug's favorite links and former TV Show Guests!:


The Chicago Jewish Community Online - Jewish United Fund

The State Of Israel Information Page

The Western Wall/ Kotel Cam-Live

"The Jerusalem Post" online

Virtual Jewish Chicago

The International Kosher Restaurant Database

Jewish RealAudio Torah Classes

The Hebrew Theological College

The Chicago Community Kollel

Yeshiva Migdal Torah Homepage

Yeshiva Ohr Somayach Homepage

Chicago Torah Network

The Consulate General of Israel in Chicago

Israel Defense Forces Webpage

Find a Minyan Anywhere at GoDaven.com

Lubavitch Chabad in Cyberspace

Project Genesis CyberTorah

The Jewish Communications Network

The Orthodox Union (O.U.)

The Jewish Community of Hebron Webpage

The Jewish Outreach Center of Ra'anana, Israel

Shema Yisrael Jewish Information Page

Judaism 101 - Information about Judaism

Zipple Jewish Supersite

The Jewish Children's Bureau

The Torah Radio Network in Chicago

Torah Tidbits Webpage

JDate - Find a Jewish Mate

The Chicago Jewish Resource Page

Only Simchas Listings

Jewspot - Jewish learning and links from Chicaggo

Magen David Adom

The ARK Chicago

Jewish.com(munity) on the web

Jewish Encyclopedia On-Line

Keren Kayemeth LeIsrael - Jewish National Fund

JNF - Plant a tree in Israel

Jewsweek Magazine on-line

Kosher.com - products and email

Chicago Eruv, Inc. - The West Rogers Park Eruv

Chicagoland Jewish Resources

HebrewBooks.org - American Seforim/Journals online<

Rabbinical Council of California - Los Angeles

Kol Avrohom - Daf Yomi Talmud Study Website

The Jewish Press

The Inner Dimension - Kabbalah and Chassidut

Yerushalayim.Net - OU Network Content Partners

Halacha on the Web

Navigating the Bible - Trope and Parsha Tutor

Chicago Rabbinical Council

Craig and Company - Singer Craig Taubman

The Israeli Scouts

Jewish Community Centers of Chicago

Rabbi Baruch Hertz of Bnei Ruven

The Big Fat Nude Hippo Show

Astronaut Harrison Schmitt

Yeshiva Machon Meir in Jerusalem

Listen Up! A Cappella

The Shining Lights Singers

Operation Jewish Education: The 5 Percent Mandate: George Hanus, Director

evën sh'siyah - THE WAY JEWS ROCK!

Winston Mideast Analysis & Commentary

Ruby Harris, KING OF THE BLUES VIOLIN

Singer/Songwriter Craig Christiansen

Steve Arvey and West Side Heat

Justice for Jonathan Pollard

Libby Matlin mother of Marlee Matlin

Hadassah - The Women's Zionist Organization

Greater Chicago Jewish Arts Festival

The Tooth Doctor - Mitchell Honig D.D.S

Soulfarm (formerly Inasence)

The Band Decadence / Savagery Productions

Sherman Kaplan of News Radio780 WBBM

Singer/Songwriter - Sandy Andina

Lubavitch Foundation of Scotland - Rabbi Chaim Jacobs

Kirshner's Cuisine Catering, Michael Kirshner

Comedian: Richard Morris

Author: Emily Rose

Author: Henry Roth, Ph.D.

Shakshuka - Israeli & Sephardic music spiced with jazz

Jewish Vocational Service of Chicago

Author: Alan Morinis

Former Israeli Prime Minister: Benjamin Netanyahu

Singer/Songwriter: Barry Manilow

Americans for a Safe Israel

Avi Fox and Rosenblum's World of Judaica

Mr. Skin

The Gene Siskel Film Center

Kup's Column

Actress: Lainie Kazan

Actor: Robby Benson

Comedian Tim Cavanagh

Spike Manton of WLUP 97.9 FM

Hugs From Sammy - Midwest Children's Brain Tumor Center

Author: Elisabeth Kesten

Dr. Saul Wachs of Gratz College

Skokie Mayor: George Van Dusen

North Town News Magazine - Avy Meyers, Host

Singer: Yisroel Williger

Singer: Yeedle

The Maxwell Street Klezmer Band

Alexander Muss High School in Israel Program

Folk Singer: Tim Vana

Singer: Shloime Dachs

Singer: Rabbi Joe Black

Singer: Tom Carey

Comedian Aaron Freeman

Peter Yarrow of Peter, Paul, and Mary

Joan Rivers - The Buzz

Steve Lawrence of Steve & Eydie

Jim Reeves of Reeves Audio Recording

Singer: Monica Jinks

Newsman Jim Johnson of WLS AM89

Bob Sirott of WTTW's Chicago Tonight

Actor/Singer: Theodore Bickel

Cable TV hostess: Stephanie Stone-Lidskin

Dr. Larry Hirsch of Bet El

Professor Nava Ben-Zvi, President of Hadassah College

Singer: Peter Himmelman

Singer: Art Garfunkel

Senator Hillary Rodham Clinton

Author: Elie Wiesel

The Museum of Broadcast Communications in Chicago

Author: Rabbi Joseph Telushkin

United Jewish Communities - Federations of North America

Author: Herman Wouk

Israeli Pop Artist: Noa

Singer: Michael Feinstein

Israeli Singer: Yeremi Kaplan

Hazzan Larry Goller

Israeli Prime Minister: Ariel Sharon

Veteran Newsman Dave McBride

Kosher Supervision of America - KSA

KOF-K Kosher Supervision

Star-K Kosher Certification

O.K. Kosher Certification

Rabbi Mitchell Cohen of the Ottawa Vaad Hakashrut

Edward Mullen of Emerald Advisors

IncredibleArt.Com - Online Art

David Steinberg of Disney Studios

Rhonda Marin of US Bank

Uncle Moishy

Shmuel Mashiach Orchestras

Julie Kohner of: Voices Of The Generations

Piser and Artsonia's KIDSART

The late, great, quarterback of the Chicago Bears: Sid Luckman

Entrepreneur: JB Pritzker

Hazzan Henry Rosenblum

Congresswoman Jan Schakowsky

IL State Senator Ira Silverstein

IL State Senator Jeffrey Schoenberg

IL. State Rep. Lou Lang

Cook County States Attorney Richard Devine

Chicago Alderman Bernard Stone

Rabbi Binyomin Scheiman of Camp Gan Israel

Yochanan Nathan - Scribe

Kollel Torah Mitzion

Rabbi Benzion Kaganoff

Margot & the late Charles Schlesinger: Survivors of Schindler's List

Sheldon Stern of Buckingham Pavilion

Author: Roy S. Neuberger

Singer - Yaniv

Singer - Chaim Dovid

Rabbi Avraham Goldstein of Diaspora Yeshiva

The Donny Mac Band

Rabbi Neil Brief

Former N.Y. Mayor Rudolph W. Giuliani

Singer/Songwriter - Adam Cohn

Organizational Consultant: Barry Axler

Optometrist and Postal Historian: Justin R. Gordon, O.D.

Singer/Songwriter - Martina Sorbara

Singer/Songwriter - Tristen

Singer/Guitarist - David Kavaliunas of Kavus

Judge Gerald C. Bender

The American Cancer Society

Photojournalist and Author: Ruth Gruber

Singer: Mendy Wald

Singer: Allan Lieberman

The Wallflowers

Singer/Songwriter: Dennis DeYoung

Rabbi William Kanter of Religious Zionists of Chicago

Wiesenthal Beatles Museum

Sir Paul of Livermore

Rabbi Pinchas Eisenbach - Hospice Chaplain

Maurice Singer of Israel Aliyah

Hershey Felder of George Gershwin Alone

Author: Ayal Rosenberg

Game Show Gurus

Singer/Guitarist: Yossi Piamenta

King David Bikers

Videographer: Dan Gelfond

Wendy Keter of Israel Aliyah

Author & Radio Producer: Rick Kaempfer

Singer: Beth Schafer

Singer: Rabbi Joe Black

Singer/Guitarist: David Broza

Seeds Of Sun

Judy & David

Author: Eva Etzioni-Halevy

Author Of "Stars of David" Abigail Pogrebin

Mark Hayward - Yo-Yo Champion/Juggler

Author & Producer: Rabbi Yisroel Bernath

Mordechai & Shira Dorfman of Savvy Sheitles

The Rock Bottom Blues Band

Singer/Guitarist: Rick Recht

Sharon Matten of Edible Experience

Hershey Felder

David Jacobson of Chicago Jewish Funerals

Author: Rabbi Shmuley Boteach

BeatleFest and Mark Lapidos

The Beatles in India - Paul Saltzman

Beatles Artist: Shannon

Terry Sylvester of The Hollies

The Quarrymen - with Colin Hanton

Terri Hemert of WXRT

NFL Referee: Jerry Markbreit

Author & Photographer: Robb Packer

Cleveland's Kosher Subway Restaurant

Todd Mesek and The Rock & Roll Hall of Fame - Cleveland

Lisa Loeb

The Band: Blue Fringe

Debbie Friedman

Magazine Memories and Bob Katzman

Matisyahu

The Band: Blue Fringe

Author: Kay Gill

Plastic Surgeon: Dr. Michael Epstein

Comedian Caryn Bark

Comedian: Aaron Freeman

The Rock and Roll Hall of Fame, Cleveland

Kosher Subway at the "J" - Cleveland, OH

Beatlefest

Illinois Governor Rod Blagojevich

NHL Goal Tender, Dov Grumet-Morris

Nobel Prize Winner, Professor Robert Aumann

Zohar Jackson & Adam Palmer - The Academy Acrobats
---
-->

Click Here To See Our Friend DAVID STEINBERG's Book "TURKEY BALL" Animated!
---

-----
-----


The City of Chicago Website


"The Steve Dahl Radio Show" Homepage


"The Pete McMurray Show" Website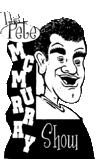 "The John Records Landecker Show" Webpage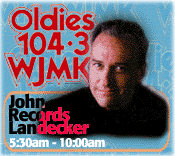 The Roe Conn & Garry Meier Show Website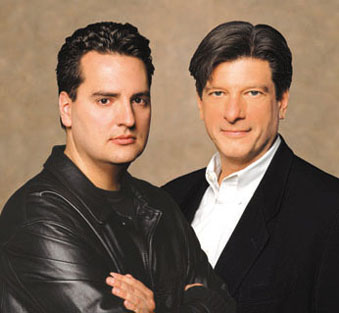 The "Links Around Chicago" Page<!img src="dahlface.gif" border=0 >